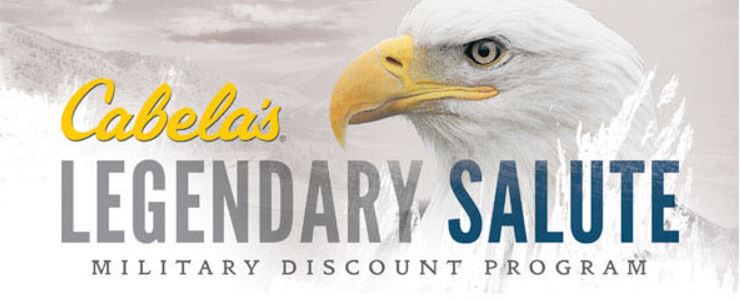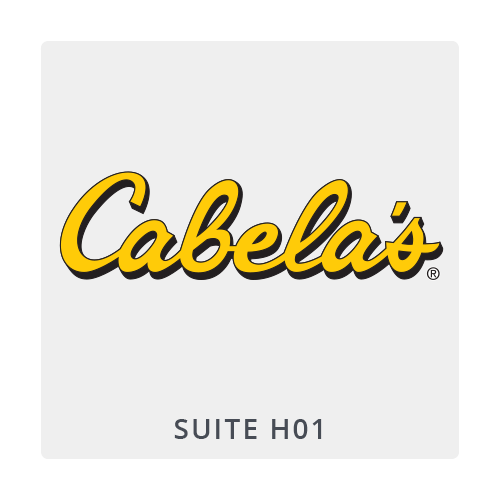 Legendary Salute Military Discount Program
Every Day
Legendary Salute
Cabela's is pleased to salute and offer the active military, veterans and retirees, national guard and reserves of our Armed Forces a 5% discount every day at all store locations and cabelas.com.
How To Get Your Discount In-store
Show your valid Military ID at checkout.
This discount can be used everyday at any U.S. Cabela's store or by calling customer service.
How To Get Your Discount on cabelas.com:
Click the button below to start the Verification Process. You will be asked to either log in or create a cabelas.com account if you are not already logged in.
Verify your status. You will be sent out to a third-party site (SheerID) where you will enter your information to be verified.
Enjoy 5% off your orders. Once verified, your discount will be applied at checkout when you are logged into your cabelas.com account. Some restrictions apply. *See below for details.
*Details: Online military validation must be completed before the military discount can be displayed. Once a customer has been successfully validated online, they can use the discount whenever they are logged into their account. 5% discount will be calculated off of selling price and can be used in conjunction with other promotions, including Cabela's Bucks, free shipping, sale items, etc. Military discount is not eligible in Canada stores or cabelas.ca. Employees are not eligible for military discount. Exceptions include boats, trailers, tractors, tractor attachments, outboard motors, all-terrain and utility vehicles, gift certificates, gift cards, licenses, services and fees.
Few, if any, businesses today survive the kitchen-table dreams of their founders, especially in the outdoor industry where businesses come and go with the changing seasons. Yet, the leader in the outdoor equipment business has done just that – survived, grown and prospered from simple beginnings to become the largest mail-order, retail and Internet outdoor outfitter in the world.

Cabela's, the World's Foremost Outfitter of hunting, fishing and outdoor gear, was born somewhat inadvertently in 1961 when Dick Cabela came up with a plan to sell fishing flies he purchased while at a furniture show in Chicago. Upon returning home to Chappell, Nebraska, Dick ran a classified ad in the Casper, Wyoming, newspaper reading: "12 hand-tied flies for $1." It generated one response.

Undaunted, Dick formulated a new plan, rewriting the ad to read "FREE Introductory offer! 5 hand tied Flies….25c Postage….Handling" and placing it in national outdoor magazines. It didn't take long for the orders to begin arriving from sportsmen and women around the country.

In typical direct-mail style, each order was mailed out with a mimeographed catalog of outdoor items Dick and his wife, Mary, added to their product line. In the beginning, Dick and Mary ran the business from the kitchen table of their home in Chappell.

By 1964, continued success and growth demanded a bigger and better location. The operation was moved from their kitchen table to the basement of Dick and Jim's father's furniture store and then on to various buildings in Chappell. In 1969, Cabela's was operating in a 50,000 square-foot vacant John Deere building in neighboring downtown Sidney, Nebraska.

Initially, Dick and Mary were able to handle the growing business with the help of temporary typists hired for mail, label and catalog preparation. However, by the fall of 1962, they realized the demands of their new venture needed full-time attention. Dick urged his younger brother Jim to join the new company, which he did in 1963. Neither Dick, Mary nor Jim took any salary from the company in those early years. Instead, they invested in more mailings, new equipment and bigger facilities.

Today, Cabela's main world headquarters building along Interstate 80 in Sidney encompasses more than 250,000 square feet.

The foundation of the company is its world-famous catalog business. The company produces nearly 100 different catalogs per year, including specialty books focusing on such outdoor pursuits as archery, fly-fishing and boating, as well as massive Spring and Fall Master catalogs. Internationally known as a source of affordable, high-quality outdoor equipment, Cabela's catalogs are shipped to all 50 states and 125 countries.

With its Internet department growing by leaps and bounds, Cabela's has seen tremendous online growth. Besides the thriving e-commerce side of www.cabelas.com, which went live in 1998, the web site features a continuously updated content site, community pages, company information and much more.

Cabela's retail division operates overwhelmingly popular stores throughout the U.S. As much wildlife museums and education centers as retail stores, Cabela's showrooms provide a truly unique shopping experience. True destination stores, Cabela's showrooms offer outdoor enthusiasts and their family an educational and entertaining shopping experience.

To provide support for their co-branded credit card, which was started in 1995, Cabela's chartered the World's Foremost Bank, N.A., in 2001. The bank provides customer service, risk management and payment processing exclusively for Cabela's Visa cardholders. The Cabela's Visa card allows consumers to earn points back from all their purchases, which they can apply toward their next purchase at Cabela's.

Cabela's Outfitter Journal magazine, and award-winning television shows further enhance the company's brand image and provide the public with entertaining and educational ways to experience what Cabela's is about. These media outlets provide sportsmen and women the opportunity to learn what the outdoors has to offer through top-quality production and informative features from the nation's most knowledgeable outdoor journalists and personalities.

Yet another chapter in the company's history began June 25, 2004, when Cabela's (CAB) made its debut on the New York Stock Exchange. Investors eager to acquire a piece of the World's Legendary Outfitters® drove the stock's value up 40% in the opening minutes of trading, making it one of the most successful Wall Street debuts in recent memory.

Cabela's success hasn't gone unrecognized, as evidenced by the number of commendations and awards bestowed upon the company in recent years. In 2001, the Cabela's Catalog was ranked as the fifth most popular catalog, behind such direct-mail giants as J.C. Penney and Sears, in a Consumer Shopping Survey administered by Catalog Age magazine. Other awards include: ShotBusiness magazine's Retailer of the Year; Sporting Goods Business magazine Specialty Retailer of the Year; BizRate.com Circle of Excellence Award for outstanding web site performance over the holiday season.

In 2006 Cabela's web site was ranked No. 1 in the outdoor retailer industry and the company was named Company of the Year in Sporting Classics magazine's prestigious Awards of Excellence. Dick, Mary and Jim Cabela are members of the Sporting Goods Industry Hall of Fame, and Dick Cabela is a member of the Direct Marketing Association Hall of Fame. Over the years Cabela's has received numerous recognitions for its work with conservation organizations. In addition, Cabela's employees were instrumental in naming the company one of the Top 100 Companies to Work For in Fortune magazine's January 2000 issue.

Despite the accolades and growth, Cabela's continues to embrace the original philosophy that the customer is No. 1 – a philosophy instilled by company founders Jim and Dick Cabela. This dedication to the customer is just one of many reasons Cabela's is what the family always knew it could be – a dream come true.